Pledge to Support Healthier and More Vibrant Communities
Opening Community Gates: Commitment to Cancer Prevention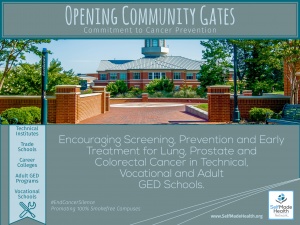 Cancer remains one of the top ten leading causes of death and disability and continues to affect the lives some of our nation's most vulnerable populations. A number of preventable cancers (including Lung Cancer) disproportionately affect the lives of males and other populations with limited levels of education and access to resources.
As part of SelfMade Health Network's commitment to supporting the evolution of healthier regions, we are launching the Power of Cancer Prevention: 100 initiative. The goal of the Power of Cancer Prevention: 100 initiative is to reduce cancer risks and late-stage cancer among students, faculty and staff on technical/vocational school campuses and similar learning institutions nationwide.
Power of Cancer Prevention: 100 involves enlisting commitment from at least 100 Technical and Vocational Schools as well as similar academic institutions in an effort to heighten awareness and increase access to risk-reduction resources and services associated with Lung Cancer, Prostate Cancer, Colorectal Cancer and tobacco cessation especially among male adults aged 18 -65 years.
Community Colleges
Technical Colleges & Vocational Schools
Adult GED (General Education Diploma) Programs
Adult Learning Centers
Community Certificate Programs & Training Programs