Staff
Operating and managing network activities takes a full team of support personnel. SelfMade Health Network employs additional experts trained in public health, evaluation, health policy, and communications. In addition, the parent organization-Patient Advocate Foundation provides additional support in the form of event management, marketing, finance and accounting, travel coordinating and logistics. When necessary, additional expert consultants are also engaged to bring specialized knowledge related to network projects and activities.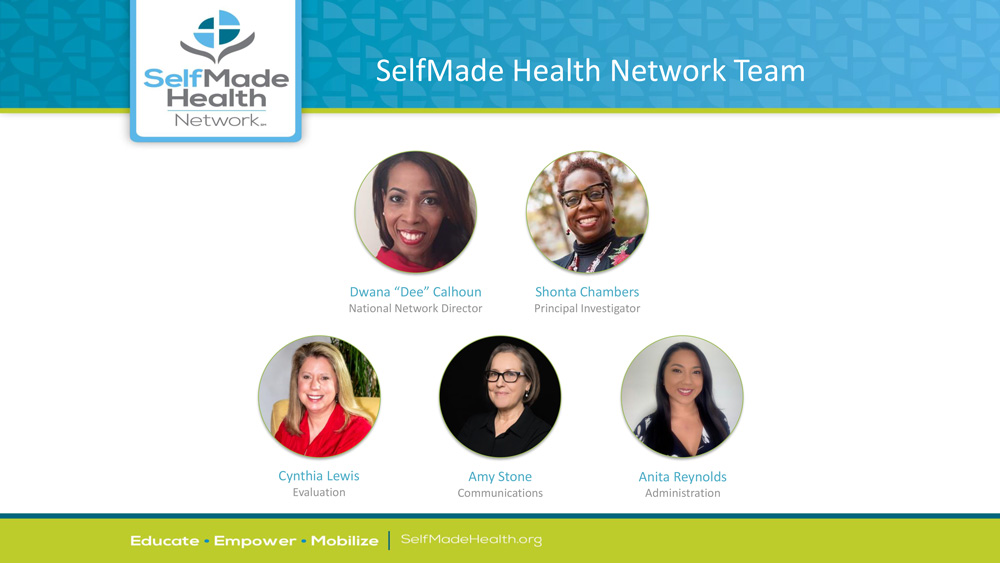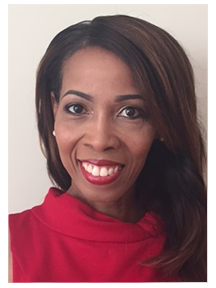 Dwana "Dee" Calhoun
Director
As Director, Dee is responsible for the oversight, leadership and coordination of all activities undertaken by the SelfMade Health Network.
Dee has a 15-year background, primarily at the senior management level in various corporate and government environments focused on healthcare quality improvement, chronic disease management and public health. She has worked closely with diverse entities including primary healthcare associations, quality improvement organizations (QIOs), academic institutions (including University of Maryland School of Pharmacy, and Emory School of Medicine-Division of Endocrinology), business groups and non-profit advocacy organizations such as the American Diabetes Association and has presented at national and state meetings including the National Conference on Tobacco or Health.
Dee was first introduced to healthcare while working as a teen volunteer at a Federally Qualified Health Center in a rural parish in southern Louisiana. She earned a Bachelor of Science degree in Pre-Medicine: Biology with a minor in Chemistry from the University of Louisiana in Lafayette, Louisiana.
While attending Johns Hopkins Bloomberg School of Public Health a decade later, she was re-introduced to the impact of healthcare systems on vulnerable populations while completing a group project as part of her "Health and Homelessness" course. She later graduated with honors attaining a Master of Science degree in Community Health from Old Dominion University, Norfolk, Virginia. Dee also completed an internship at the Eastern Virginia Medical School Leonard Strelitz Diabetes Institute.
As part of her work with SelfMade Health Network, Dee serves in the following roles:
American College of Radiology (ACR) Lung Cancer Screening Committee (Since 2022)
National Institutes of Health (NIH) Official Reviewer
American Public Health Association (APHA)-Medical Care Section
National Conference Presentations: Oral
Shonta Chambers
Principal Investigator
Shonta serves as the Principal Investigator on record as part of DP18-1808 National Networks to Reduce Cancer and Tobacco Related Disparities Cooperative Agreement.
In addition, Shonta holds the role of Executive Vice President-Health Equity Initiatives and Programs for the Patient Advocate Foundation. Shonta is responsible for the development and implementation of a national strategy to address health equity, as it relates to the targeted populations defined within the cooperative agreement that SelfMade Health Network abides by, and separately, the patients served by the Foundation.
Prior to joining Patient Advocate Foundation, she was the Deputy Director for Administration and Finance for the Chronic Disease Prevention Section within the Georgia Department of Public Health. Her experience includes nearly 15 years with the State of Georgia serving both the Department of Community Health (Office of Women's Health) and the Georgia Department of Public Health. During her public health career, she functioned in a variety of capacities including, Interim Director for the Chronic Disease Prevention Section. In this capacity, she provided leadership and senior level consultative support to the Department of Public Health around chronic disease prevention and health promotion best practices. The breadth of her experience includes leading efforts to integrate primary and secondary prevention strategies for a variety chronic disease and risk factor programs (Cardiovascular Health, Diabetes, Tobacco Use, Asthma, and Cancer) and women's health.
In 2011, her role was expanded to include sexual violence prevention and adolescent health and youth development. Shonta's commitment to chronic disease prevention and health promotion is also evident in her volunteer activities. She have been an active volunteer with the American Heart/American Stroke Association for the past 14 years serving at the national and affiliate level. She is a former member of the American Heart Association Greater Southeast Affiliate and National Board of Directors. Shonta is the former chair for the Greater SE Affiliate Cultural Health Initiative Board and the National AHA Diversity Leadership Committee.
In 2013, she was the recipient of the AHA's Louis B. Russell Award for her work to increase awareness of heart disease and stroke among minority populations and for her vision to increase diversity across all AHA national committees. Shonta has served on a variety of boards, workgroups, councils, committees and taskforces, including, the Directors of Health Promotion and Education, the National Association of Chronic Disease Directors and the CDC Expert Working Group "Role of Public Health in Screening Programs in an Era of Healthcare Reform" (Sponsored by Division of Cancer Prevention and Control, National Center for Chronic Disease Prevention and Health Promotion, Centers for Disease Control and Prevention-February 2010). Shonta received her Bachelors of Arts degree (Social Work) from Talladega College and her Master of Social Work degree from the University of Michigan.