Cancer by the Numbers
Over one million people will be diagnosed with cancer this year. Cancer occurs when abnormal cells begin multiplying out of control. There are over 100 different types of cancers. Exposure to tobacco use increases the risk of cancer.
Cancer accounts for nearly 1 out of every 4 deaths in the United States.1
Cancer is the second leading cause of death in the United States, with approximately 1.6 million new diagnoses and over 585,000 deaths each year.1
Every day 1,620 people in the United States will die of cancer.1
The direct medical cost for cancer in the U.S. was $88.7 billion in 2011.1
Lung cancer is the leading cause of cancer death in men and women, with tobacco use accounting for 87% of lung cancer in men and 70% in women.1
Smoking accounts for at least 30% of all cancers and increases the risk of the following cancers: lung, esophageal, laryngeal, oral cavity and pharyngeal, stomach, pancreatic, kidney, bladder, cervical and some leukemias.2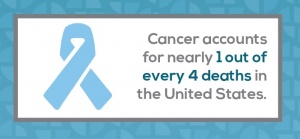 ---
"Let's Talk About..." Awareness Materials
Building awareness is an important step in early screening. These shareable graphics are available to help educate populations about cancer. Click on the thumbnail image to download each set of shareable images.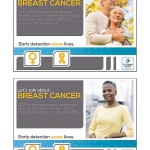 Let's Talk About Breast Cancer
- 1 out of 8 women will develop breast cancer in their lifetime but with early detection, 98% can survive the diagnosis.
- 40% of breast cancer diagnoses are detected by women giving themselves breast cancer exams.
- Of the estimated 135,430 people currently diagnosed with colorectal cancer, 50,000 will die from the illness, with data suggesting earlier screening could save half of those lives.
- 1 out of 20 individuals will be diagnosed with colorectal cancer this year, with 90% of those over the age of 50.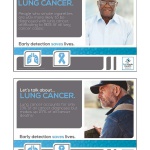 Let's Talk About Lung Cancer
- People who smoke cigarettes are 20 times more likely to be diagnosed with lung cancer, attributing to 90% of all lung cancer cases.
- Lung cancer accounts for only 13% of all cancer diagnoses but makes up 27% of all cancer deaths.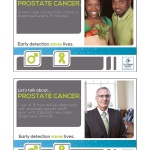 Let's Talk About Prostate Cancer
- 1 in 6 men will be diagnosed with prostate cancer each year with 238,590 new cases diagnosed annually.
- A new case of prostate cancer is diagnosed every 2 minutes.