Branded Materials for Members to Download
Custom SelfMade Health Network Graphics for Sharing and Distribution
All
Graphic Downloads
Infographics
Fact Sheets
Let's Talk About Cancer Series
Sharable Graphics - Housing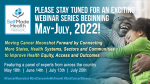 SelfMade Health Network (SMHN) Webinar Series: Moving Cancer Moonshot Forward by Connecting More States, Health Systems, Sectors and Communities to Improve Health Equity, Access and Outcomes
Featuring a panel of experts from across the country
Please stay tuned for this exciting webinar series. Additional webinar registration details will be posted here at the end of April, 2022.
This first webinar series will focus on some of the national priorities reflected in the 2022 Cancer Moonshot Fact Sheet:
To diagnose cancer sooner — Today, we know cancer as a disease we often diagnose too late. We must increase access to existing ways to screen for cancer, and support patients through the process of diagnosis.
To address inequities — Today, we know cancer as a disease for which there are stark inequities in access to cancer screening, diagnostics and treatment across race, gender, region, and resources.
To support patients, caregivers, and survivors—We can help people overcome the medical, financial, and emotional burdens that cancer brings by providing support to navigate cancer diagnosis, treatment, and survivorship.
Downloaded 5 times.
Logos and About Us Flyers