Vulnerable Populations by the Numbers
In order to help eliminate health disparities, those with low socioeconomic status must be afforded the same level of access to care as others.
Health is influenced by many factors, including level of education and family income and the resources and opportunities they provide, like access to affordable nutritious food and adequate housing. Health outcomes are also transformed by factors such as economic stability, health literacy and health insurance as well as access to quality-oriented preventive and comprehensive healthcare services, information and resources, among other factors.
Socioeconomic status continues to have a major role in influencing the prevalence of behavioral risk factors for cancer as well as access to routine cancer screening recommendations.
People with low socioeconomic status are more likely to be diagnosed with late-stage cancer and are less likely to survive.1
A person's SES affects their ability to access health services, affecting their overall health. They are less likely to get cancer screening tests so their cancer is often found at a later stage.1
Uninsured patients and those from ethnic minorities are substantially more likely to be diagnosed with cancer at a later stage when treatment can be more extensive, more costly and less successful.2
Fear, perceived cost of care and lack of physician referral are common barriers to cancer screening and preventative services.3
Households below the poverty line had worse access to care than people in high-income households.4
Disparities were observed across a broad spectrum of access measures. People in poor households experienced the largest number of disparities, followed by Hispanics and blacks.4
Preventable hospitalization rates were higher for residents of lower income neighborhoods compared with higher income neighborhoods and were higher for non-Hispanic blacks and Hispanics compared with non-Hispanic whites during 2001-2009.5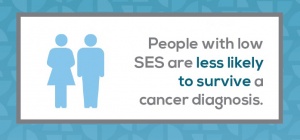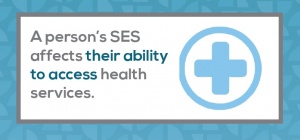 ---